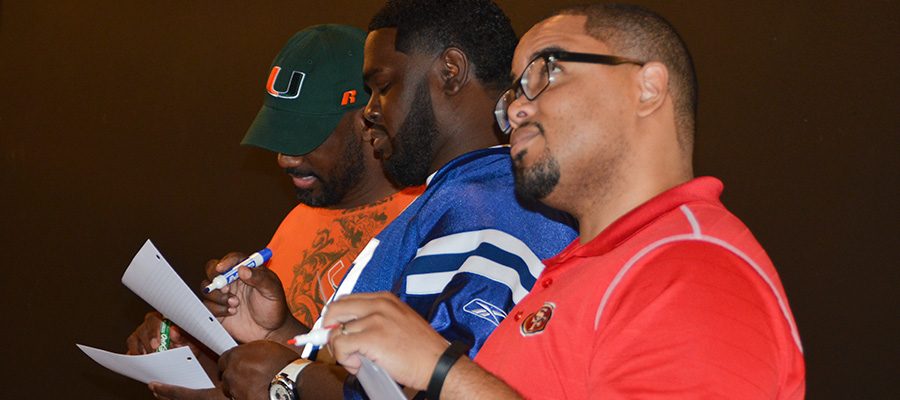 The mission of MAN UP is to help men grow closer to God and to those around them and equip them to do the work of ministry through fellowship, discipleship and mentorship.
Fellowship
Our MAN UP fellowship team hosts fun events and activities throughout the year and a retreat to promote authentic relationships and spiritual equipping. Activities include:
Men's Breakfasts
Fishing Fellowships
Men's Retreat
Discipleship
Life Groups build community and foster an atmosphere of caring for one another within a small group setting. Men are encouraged to experience life on life by participating in a men's life group. The curriculum reflects a balance of season of life, spiritual disciplines, and books of the Bible.




Join us the 1st Saturdays at 7:30am for our Man Up Men's Fellowship.


It is time for our Man Up Bible Studies to start up again. This year our Man Up huddles are moving to the first Saturday of the month with guest speakers, table discussions, in-depth Bible study, prayer, and praise and worship.
And we are kicking off this year Saturday, February 2 with special guest speaker Dr. Martin Hawkins, President of Southern Bible Institute.
Our Man Up gatherings kick off at 7:30 am and are open to all men. The event is free but we need all the men to register.
This is a great opportunity to grow some genuine relationships with other men in our church family. So men, if you've never come to one of the Man Up gatherings or if you are a regular, we hope to see all of you this year at our 1st Saturday gatherings.
Register Now
Mentorship
Currently, we are developing a men's mentoring program based on Titus 2 principles.
If you would like to serve or participate in one of these three areas, contact