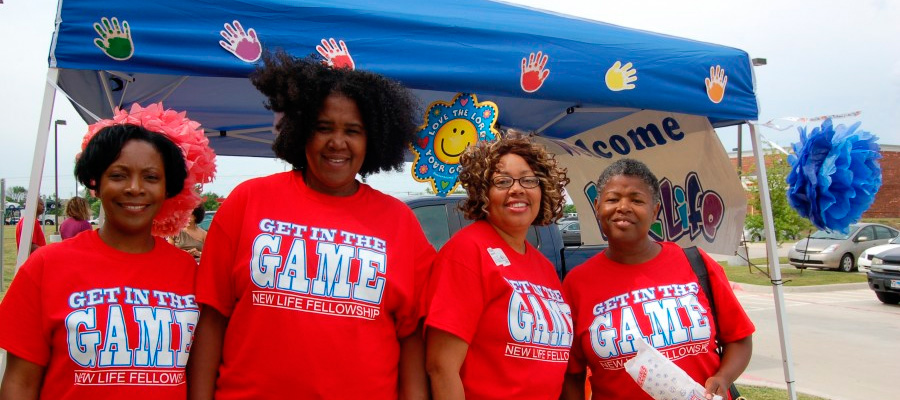 New Life Fellowship Outreach community seeks to be a source for spiritual, social and community transformation that reflects the love of Christ through word and deed.
We accomplished this by…..
Inviting People to Know and Imitate Christ:
"Go therefore and make disciples of all nations, baptizing them in the name of the Father and of the Son and of the Holy Spirit, teaching them to observe all that I have commanded you. And behold, I am with you always, to the end of the age." - Matt 28:18-20
Reaching Out:
By going outside the walls of our church and our homes (comfort zones) to extend a loving and helping hand to those in need.
Draw Others In:
By Sharing the Gospel of Christ in a loving, and life-changing way that prayerfully leads to a decision to trust Christ as Lord Savior.
Jesus came to bring salvation to the lost – Luke 19:10 ("I came to seek and save those who are lost.")
Jesus commanded the church to reach the lost—Matthew 28:19-20 ("Go into all the world and make disciples.)
Missions
We support and participate in mission opportunities locally regionally and globally. Members have opportunities to contribute through donations or participate in local, regional and global mission trips. We also provide training, supplies, financial support and prayers to the missionaries and missions organizations that we partner with. To find out more information, visit out Missions page.
Harvesters
The Harvesters are a specialized group of Outreach Ministry members trained and skilled to effectively share the Gospel and defend their faith with persons who respond to the invitation to Salvation during our worship experience. (Acts 1:8, Matt 28:19-20, 1 Peter 3:15, Luke 6:40)

Community Connection
New Life Community Connection host missional neighborhood fellowships and partnerships designed to encourage community relations, share the love of Jesus and exemplify our Acts 2 philosophy of ministry. (Acts 2:42-46)
Life on Life
The LIFE on LIFE discipleship process of New Life Fellowship exists to….
Foster initial, authentic relationships that build community and initiate the LIFE on LIFE discipleship process. (Acts 2:42,)
Provide spiritual guidance to individuals that are recent converts, believers (at any stage) desiring to begin or re-engage their spiritual walk with Christ and or individuals that have minimal biblical understanding. (1 John 1:9, Col 1:9-10, Eph 4:11-17, 2 Cor 5:17, Psalm 1:1-6)
Provide a solid biblical foundation that eventuates into a secure understanding of who Christ is, who believers are in Christ, and to increase understanding, ability and courage to share their faith. (Matt 28:18-20, Eph 4:12-13, 2 Peter 3:18, 1 John 5:13)
Serve as a critical part of the New Life Fellowship Acts 2 assimilation path that guides New Life members and or non- members from Invitation to Involvement.
Comfort and Care
We also offer support for illness and bereavement, please visit our Comfort and Care page.
Share Your Faith Saturday
Join the Outreach ministry of New Life Fellowship as we invest in and engage our community with the Gospel message, mission, and ministry of Jesus Christ. Join "The Movement" and experience God at work!