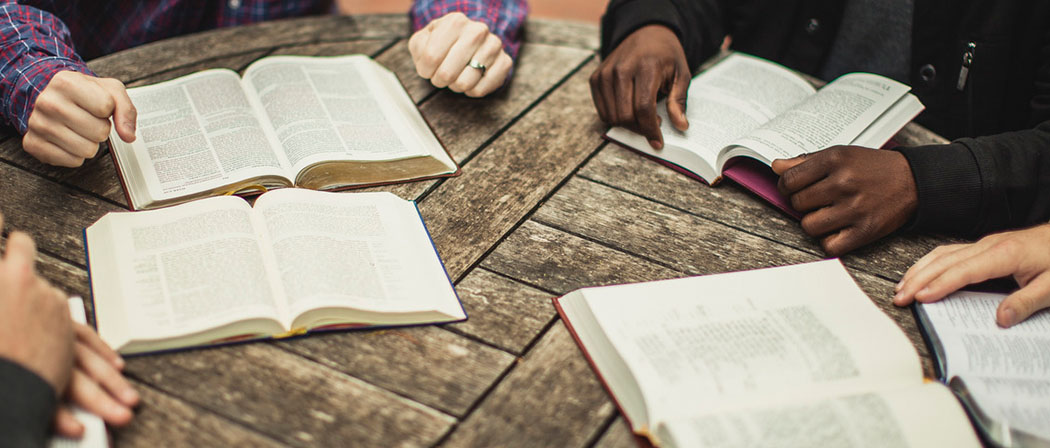 The Bible is the only source of absolute divine authority and power (2 Timothy 3:16-17). When understood correctly, it will inform you of God's mind, heart and will for your life. That's why Bible study is so important.
Bible study and prayer is how we engage and maintain an intimate relationship with God. It has been said that the scriptures are His love letter to His children. But this letter does us no good if we don't read and study it so that we may know His heart and conform to His will.

Spiritual Growth
Our pastor reminds us all the time:
In order to get the world out of you,
you must get the word in you.
But how do you do that? How do you get the world out and the WORD in? Life Begins is a great place to start for answers.

Life Begins Spiritual Growth Group Sessions
Class Dates: TBD

Life Begins is an 8 week spiritual growth group that will allow you to
connect with other believers
interact with the Scriptures so that you will
understand more about God and His purpose for your life.
Groups will be held 4 times per year
Anyone is welcome to come!
Pathways
Pathway is a ministry that provides classroom-style Bible courses focusing on general theology or specific books of the Bible.


Essentials of the Christian Faith
Description: An overview of the fundamentals and docrtrines of the Christian Faith

The Big Picture
Description: Have you ever wondered how do all the books of the Bible fit together? Or what is the unifying thread for the Bible? Well, one thread is the divine authorship. The events recorded in the Bible are there because God wanted them recorded. He had them recorded for His people and with our instruction in mind.

Come join us for a brand new Pathways Bible class, The Big Picture: An Overview of the Bible as we discover the big-picture storyline of the Bible.

In this class we will:
- Learn techniques to get more out of our daily Bible reading,
- Understand how to read sections of Scripture more effectively,
- and gain a basic familiarity with the ancient Greco-Roman world and Jewish culture in order to put Bible passages in their proper context.

Course Book (strongly recommended): Understanding the Big Picture of the Bible by Wayne Grudem, C. John Collins and Thomas R. Schreiner (available at Amazon or local bookstores)

Bible Study Methods
Description: Practical hands-on experience that will increase your comfort level and confidence with studying the bible.

Real Talk. Real Walk
Description: Through study and discussion we will seek God's truth on a variety of topics including our transformation, our value, our relationships, our conduct, and our attitude. Let's ensure that the lives we live truly reflect the goodness and grace of our Savior!

Spiritual Disciplines: Foundations of the Spiritual Life
Description: This course is a study of the Biblical principles and practical applications that develop Christian character, service, and a deeper relationship with God.

Sound Teaching
Description: In Titus 2:1 we see the timely exhortation, But as for you, speak the things which are fitting for sound doctrine. And in the brand new Pathway class, Sound Teaching, we will explore fourteen crucial words that are fitting and consistent with sound doctrine (teaching).
Evangelism Training
We have tool via Evantell that will equip and empower you with the basics of building conversational bridges that lead to sharing the Gospel
learn more
John 15 Discipleship Curriculum
John 15 is one of the most detailed discussions by Jesus on the fruitful characteristics of the Christian life, one that is intimately abiding with the Savior. The Embrace curriculum is New Life Fellowship core discipleship study. It is our vision that each member of New Life has experienced this foundational lesson by Jesus Christ
Download Study Guide PDF
Download In Depth Word PDF
LifeGroups
Life Groups is another way to go deeper in God's Word. Visit our Life Groups page to find out how you can get involved.
Bible Reading Plan
OWNit365 is a online Bible reading plan. The "One Story" plan takes you through the key stories of the Bible in one year. The plan shows how the many stories of the Bible make up one interconnected story – God's story. The plan calls for reading between one to three chapters of Scripture a day from three separate chapters (i.e. the main storyline and key cross references), six days per week. You can either read your daily selection, or have it read to you. Get started today!
FOR SMART PHONES AND TABLETS
Download and open the OWNit365 app
Choose plans, then One Story
Select Read or Listen and then Today's Reading or Listening.
FOR COMPUTERS
Type www.OWNit365.com into your web browser
Click Pick a Plan, then One Story
Click the week and choose the day you want to begin
Click passage and begin reading